Monday, December 09, 2013
The Muppets' Swedish Chef is serving up his Swéédéé Méétéé Bøøls at a Food Truck Festival when celebrity chef Gordon Ramsay shows up. A challenge? It's a food fight! At least Ramsay does his own bleeps in this -after all, it
is
the Muppets! (via
Boing Boing
)
Sunday, December 08, 2013
Cancer patients talk about how, once they received their diagnosis, they could never just forget their illness for a moment. One patient put it simply in when she said, "You know what I miss the most? Being carefree."
The Mimi Foundation
invited twenty cancer patients to enjoy a makeover. They only stipulated that they keep their eyes shut until it was done. Then they gave them the most outlandish wigs and makeup you can imagine and filmed their reactions. It was in that moment that they forgot all about cancer and reveled in the moment. Photographs from the event were
published in a book
so that the participants can always remember that time they were truly carefree. (via
Viral Viral Videos
)
Posted by

Miss Cellania
at 12/08/2013 09:00:00 PM
1 comment:


Links to this post
Brösel the mouse decorates her Christmas tree. She is a clicker-trained mouse, but when she first saw the tiny tree and decorations, started playing with them spontaneously! It didn't take long to teach her what she was supposed to do. See more of Brösel and her buddies
at Mouse Agility
. (via
Tastefully Offensive
)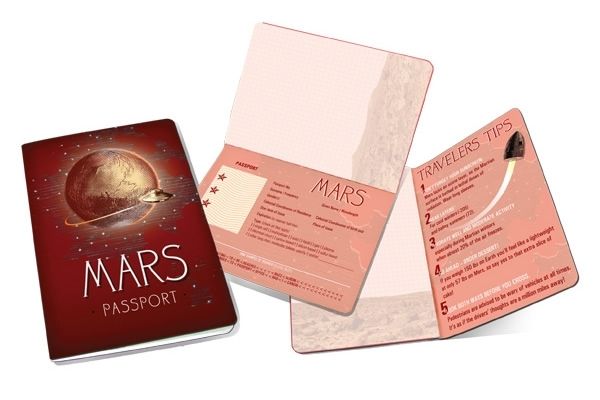 Stay organized as you travel to the edges of the solar system, or the outer reaches of the grocery store, with the Mars Passport Pocket Notebook from the
NeatoShop
. This handy little book features a retro image of mars, delightful travel tips, and 60 plus pages for your writing pleasure. With this notebook you will always be prepared for whatever mysteries and adventures that lie ahead.
sure to check out the NeatoShop for more great
Office & Desk
items.
Link
A 1955 travelogue that takes you through a tour of New York City. This reminds me of a trip I took to New York for spring break in 1979, with a college friend who lived near the city. We went to her home before we visited my parents, and we drove the whole way, but otherwise, just the same. Well, we went to the top of the World Trade Center instead of the RCA Building. Oh, and her brother showed us around the gay bars of New York. Otherwise, it's just the same. (via
Metafilter
)
Posted by

Miss Cellania
at 12/08/2013 06:00:00 AM
1 comment:


Links to this post
In Taiwan, you can really go out with a bang, or at least with a marching band. There are many more such videos in
this YouTube channel
, which may be from the company that provide this service. (via
Arbroath
)
Saturday, December 07, 2013